Welcome to the home page of Letchworth Morris Men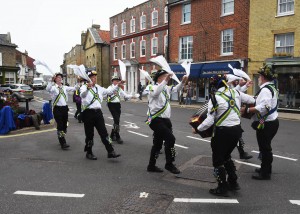 Dancing in Southwold, October 2018. Click to enlarge.
We  were founded in 1922 and are one of the original six sides (or clubs) who formed the Morris Ring (www.themorrisring.org) in 1934. We are proud to continue the tradition of Morris dancing in the Cotswold style in the Letchworth area.
We practise at Radwell village hall, near Baldock, Herts on Thursday evenings from 8 – 10 p.m. during the winter – generally from the beginning of October to the end of April.
All men are welcome, as musicians or dancers, with or without experience. Ideally ring our Bagman (see Contacts page) before you turn up, for directions and a quick chat.
In 2020 our first practice night is on Thursday 1st October. If you fancy finding out what it's all about, with no pressure to join, do come along then or on subsequent Thursdays. You'll be made very welcome.