Welcome to the home page of Letchworth Morris Men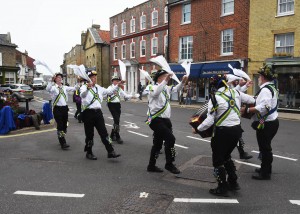 Dancing in Southwold during a tour of the area, October 2018
We were founded in 1922 and are one of the original six sides (or clubs) who formed the Morris Ring (www.themorrisring.org) in 1934. We are proud to continue the tradition of Morris dancing in the Cotswold style in the Letchworth area.
We normally practise at Radwell village hall, near Baldock, Herts on Thursday evenings from 8 – 10 p.m. during the winter – generally from the beginning of October to the end of April – but the Covid-19 pandemic has postponed all operations until further notice.
Death: We were sorry to learn of the death of one of our current members, Robert Mott on 23rd October 2020, aged 78, following complications after a heart operation. He had been a member of many sides throughout his life including Hammersmith, Icknield Way and Staplers, and will be missed by all the men. Our condolences go to his widow, Val and his two daughters.