Morris is a very sociable pastime, and there are many other events which we attend or organise with other morris sides – men's, women's and mixed. These occur throughout the year, and include teaching weekends for a specific style of dance, get-togethers with other sides for evenings of dancing, beer and food, and national and international events over weekends with tours of local pubs, displays in town and city centres and formal feasts.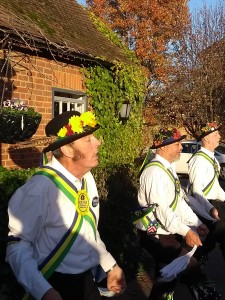 The Squire's birthday celebration, Great Wymondley, 2018
All events for 2020 have been cancelled due to the pandemic.
The future for live performances in general is under threat, but all we can do is hope that eventually we'll be able to get out and dance, and continue the Morris tradition around Letchworth.
Wassail!
Traditionally, we dance on Boxing Day and the Dunton Wassail as below, but these events have been cancelled, as gathering such as these are illegal under the present Covid regulations.
DECEMBER
[Sat 26
12:30  Fox, Willian SG6 2AE
13:30  Three Horseshoes, Willian SG6 2AE – BOTH CANCELLED]
JANUARY 2021
[Sat 2
18:00  Dunton Wassail with Bedford MM – CANCELLED]